I have missed him so much these past...months....
But seriously there is a void I'm waiting to be filled, and I won't have to stay up so late to see him, which is a plus. I wonder what his stage will look like, if they'll keep it the same or not, if the humor will be the same (oh please let it be). I wait for the scissor dance.

Oh and also, Conan will be on The Tonight Show, so gonna defiantly watch that!

For
beatlemaniac90 and her love of GIFs: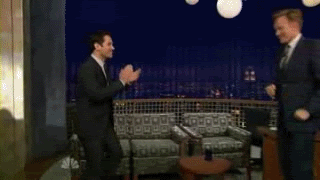 *snortgigglesnort*

And some promos





Gosh I love Beach Running Conan. I'm excited! :D

EDIT: Chickenfoot will be on June 5th, and you know what this means....CHAD SIGHTING!!!